QI Network Partners
Our Quality Improvement (QI) Network Partner Membership is a category of institutional membership that includes places on Fellowships and at conferences as well as potential advice days from ISQua experts (either in person or virtually). ISQua's QI Network membership brings together top health care innovators, influencers and thought leaders, united in their determination to lead transformation, positive change and improvements in health care. It is an opportunity to build a network of improvers.

We can connect partner organisations so that they can share knowledge and experience to enhance their improvement journey. Organisations interested in gaining QI Network membership can email Sinead McArdle (Business Development Officer) at smcardle@isqua.org to discuss how we can tailor a package for your organisation's needs.
BCPSQC also provides advice and makes recommendations to the Minister of Health. In support of this mandate, they undertake activities that are determined through extensive consultation with our partners to define where we can best add value. Drawing on their resources, stakeholder relationships and the diverse expertise of our staff, BCPSQC acts as a leader, an advisor, a partner, a facilitator, an educator and a supporter. They seek out national and international innovations that are of value to British Columbia, adapt these new ideas to meet the needs of the health care system, and work with their partners to put them in place
The CEIH aims to bring together expertise from clinicians, consumers, health partners and other relevant stakeholders to maximize health outcomes for patients; to be recognized as a centre for excellence and a strong partner for clinical improvement and innovation and have recognized expertise that can influence system design; and to support the provision of safer, more innovative and efficient health care through empowering clinicians and consumers. Four directorates enable this work to be undertaken: Clinical Informatics, Consumer and Clinical Partnerships, Clinical Improvement and Innovation, and Human-Centered Design.
The CEIH was established in July 2019 as a key priority of the State Government to rebalance the health system in South Australia in a way that represents the needs of the community, delivers the highest standards of safe and quality care, and is economically viable for the future.
They do this by identifying, monitoring and promoting improvements in the quality of health services delivered by service providers (both HHSs and private health facilities, globally and within Queensland), and supporting and facilitating the dissemination of best-practice clinical standards and processes that achieve better outcomes for patients.
Our Partners
World Health Organization (WHO)
ISQua is honoured to continue our close relationship as a non-state Actor in Official Relations with the World Health Organization.

"Official Relations" is a privilege that the Executive Board may grant to non-governmental organisations, international business associations and philanthropic foundations that have had and continue to have a sustained and systematic engagement in the interests of the Organization. The aims and activities of all these entities shall be in conformity with the spirit, purposes and principles of WHO's Constitution, and they shall contribute significantly to the advancement of public health.
Strategic Partners
ISQua partners with organisations that have similar goals of advocating and facilitating improvements in health and health care worldwide, working with these organisations across a variety of activities to promote the quality and safety of health care. These activities include organising or delivering joint events, webinars or education programmes; developing new schemes such as education or external evaluation programmes; and contributing to joint publications. Each one of ISQua's valued partner organisations brings their own unique experiences, knowledge, skill base, expertise and health care quality materials to our Members.
Why you Should Consider a Partnership with ISQua
At ISQua, we believe in the benefits of developing synergistic relationships to amplify our work, and are happy to meet with potential partner organisations in order to discuss the possible benefits of working together. From the ISQua perspective, we aim to connect with partners who can assist us in promoting our mission. If your organisation in interested in entering a partnership with us, please contact smcardle@isqua.org.

Listed below are our current strategic partner organisations.
Current Partners
Fellowship Ambassadors
At ISQua, we believe that further education in health care quality and safety is one of the most effective ways to inspire change and champion improvement across all areas of health care. We aim to inspire improvement through fostering a thriving global community of passionate professionals united by a single common goal: safer health care.

The Fellowship Programme provides every member of this community with valuable knowledge around improvements and innovations, provides ample opportunity to expand their network, and helps each of them to develop the confidence needed to be a changemaker.

ISQua Ambassadors are current Fellows who exemplify the core values of the ISQua Community. They are available to speak with both current and prospective Fellows and will openly share their experiences, thoughts, feedback and guidance relating to the programme.
Nilufar Rakhmanova
"I am an ISQua Fellow since 2014 and I maintain my fellowship because it truly gives me an edge as I work with colleagues to improve the quality of health services. I feel very honoured to be named as an ISQua Ambassador and I look at this as a next phase in my professional journey to share joy and confidence in the power of improvement science. This status provides a creative opportunity to influence a larger network of health providers and engage more people in the fun science of bridging a gap between patient expectations and their real experience, and designing solutions to complex problems in the health system."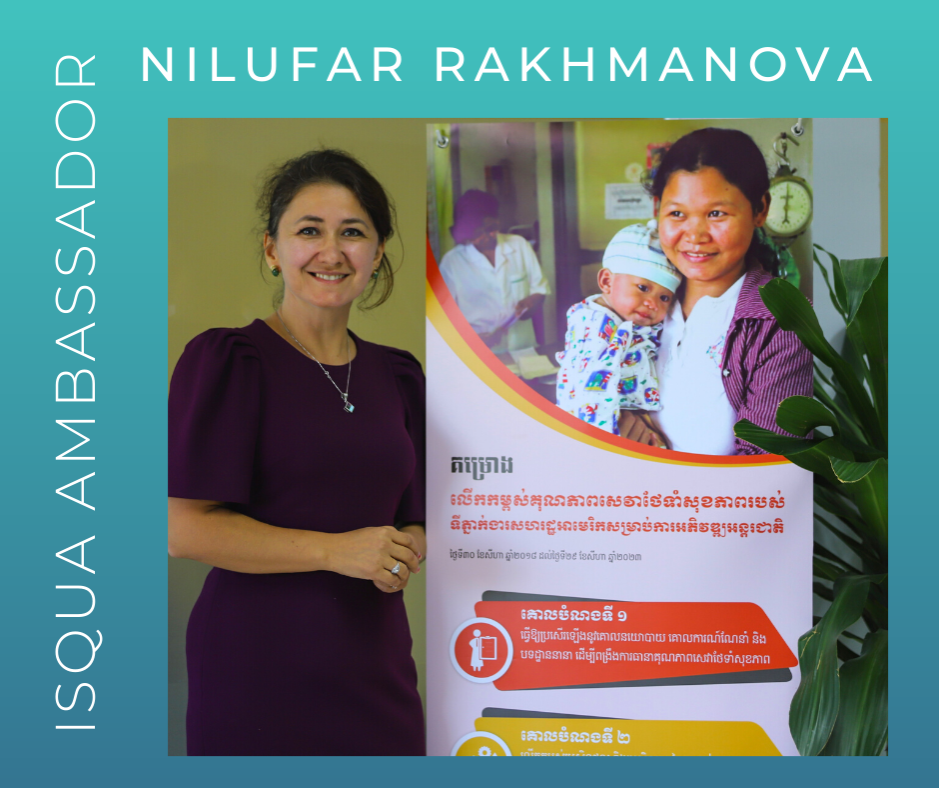 Nilufar Rakhmanova, MD, MPH is a Public Health specialist, with 17 years of experience in global health programs management and health systems strengthening (HSS) with a focus on the application of Quality Improvement (QI) science. Nilufar is project director of a USAID Flagship project implemented by FHI 360 in Cambodia, called Enhancing Quality of Healthcare, that encompasses all angles of quality from health regulation to quality improvement and competency-based education. An ISQua Fellow since 2015, Nilufar has applied QI science to various public health programs in more than 15 countries, including Africa, Eastern Europe, and Central and South East Asia. Nilufar is the lead author of FHI 360 The Quality Improvement Handbook: A Guide for Enhancing Performance of Healthcare Systems. In her free time, Nilufar is a professional folk dancer.
Stephen Balogun
"Being recognised by ISQua as an Ambassador makes me so proud and happy because it shows that I am doing right in my contributions to patient safety, quality improvement, and the ISQua community. I became involved with ISQua in 2013 and have since then continued to learn, practice and share my ISQua knowledge and skills. This recognition is so important to me, especially now because it is a reward for my passion and further encourages me to work harder for global health, the ISQua community, and to continue the good representation worthy of an Ambassador."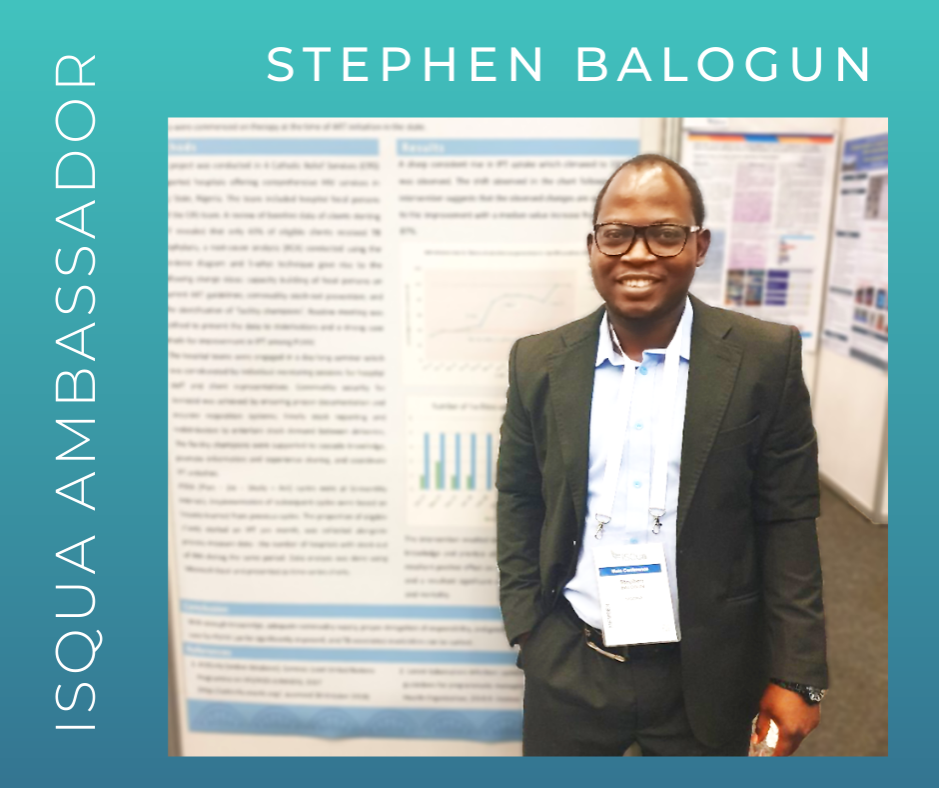 Stephen Balogun is a Public Health expert, Project Manager, Data Scientist and Quality Improvement expert with 10 years of experience working with international non-governmental organisations, and in the private and public healthcare sectors providing institutional support to primary and secondary health facilities, leading quality improvement projects, and engaging government stakeholders on health-related activities. He has been involved in the management of The Global Fund, AIDS Healthcare Foundation, PEPFAR and Vitamin Angels grants. He believes in a blend of predictive and agile principles and methodologies to maximise projects benefits and achieve deliverables.
He won the Delegates' Choice Best Poster Award and was the Runner-up of the First ISQua QI competition at the 36th ISQua Conference in Cape Town, South Africa in 2019. Together with a team of QI champions, he is currently working in Nigeria to establish a community of Quality Improvement and Patient Safety experts. Stephen holds a MBBS degree and Master of Public Health from the University of Ilorin, Nigeria. He is both a Fellow and Member of ISQua.
Hossam Elamir
"Joining the ISQua Fellows community last November, I did not expect to be selected as one of the first ISQua ambassadors. I am honoured for such nomination. It is extremely important for me to represent this part of the world when discussing healthcare quality and patient safety matters with my colleagues and this international organisation. I trying to change the people believes and practices regarding the essence of accreditation programmes. Hence, the ISQua ambassadors initiative provide this platform for us to be the voice of healthcare workers and organisations in front of ISQua. I think we will be the representatives of our communities more than representing the ISQua."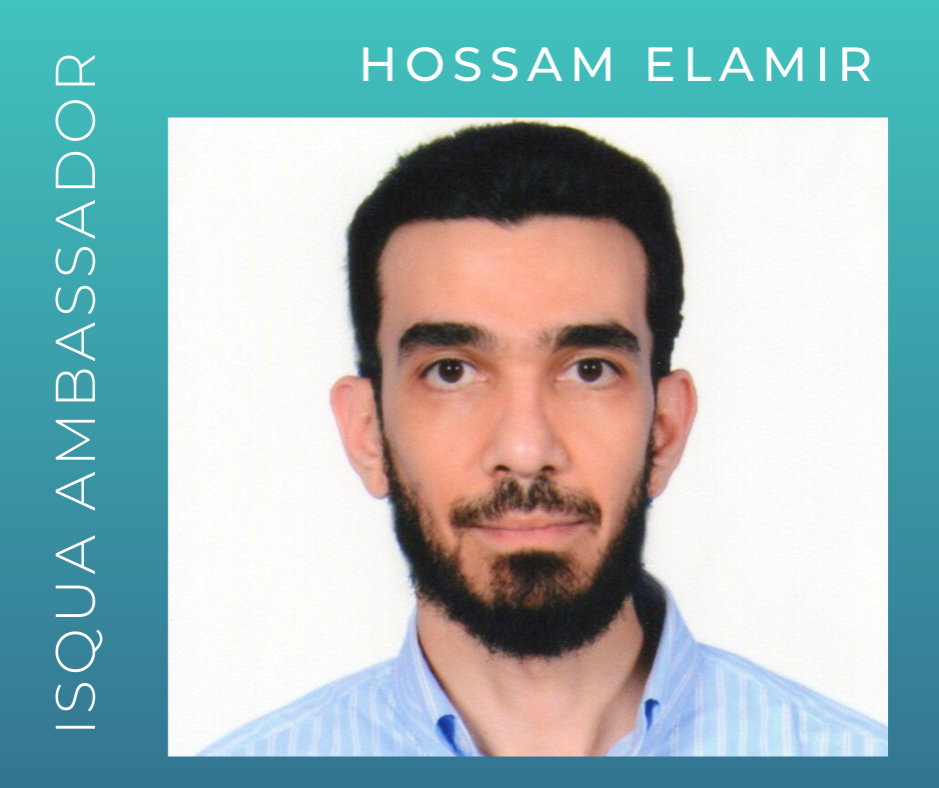 Dr Hossam Elamir holds a graduate degree in medicine, a postgraduate diploma in quality, and a master's degree in healthcare management from the Royal College of Surgeons in Ireland. He worked in the National Guard Health Affairs and the Specialized Medical Centres, before joining the Quality and Accreditation Directorate, where he was appointed as the head of quality and accreditation department in one of the general hospitals for seven years, then as a leader of the Technical Support Team to this day.
Dr Elamir has published 3 peer-reviewed full articles, 1 peer-reviewed abstract and 11 academic posters. He led 4 different hospitals to achieve the National Accreditation Award, in addition to many other improvement projects. Moreover, he was involved in developing the National Incident Reporting System and updating some Patient Safety Guidelines.
Dr Elamir is a lean healthcare promoter, a Certified Professional in Healthcare Quality (CPHQ) by the Healthcare Quality Certification Commission, a Certified Professional in Healthcare Risk Management (CPHRM) by the American Hospital Association Certification Center, a Fellow of the International Society for Quality in Health care (FISQua), a Team STEPPS Master Trainer, an international speaker and a peer reviewer.
Akio Hirata
"Fellowship programme is a great opportunity to learn. Hope many people come and join us. I am so grateful for wonderful support of ISQua Education Team. Huge thanks to Caroline and Brian."

General Manager, Division of Education and Training, Japan Council for Quality Health Care.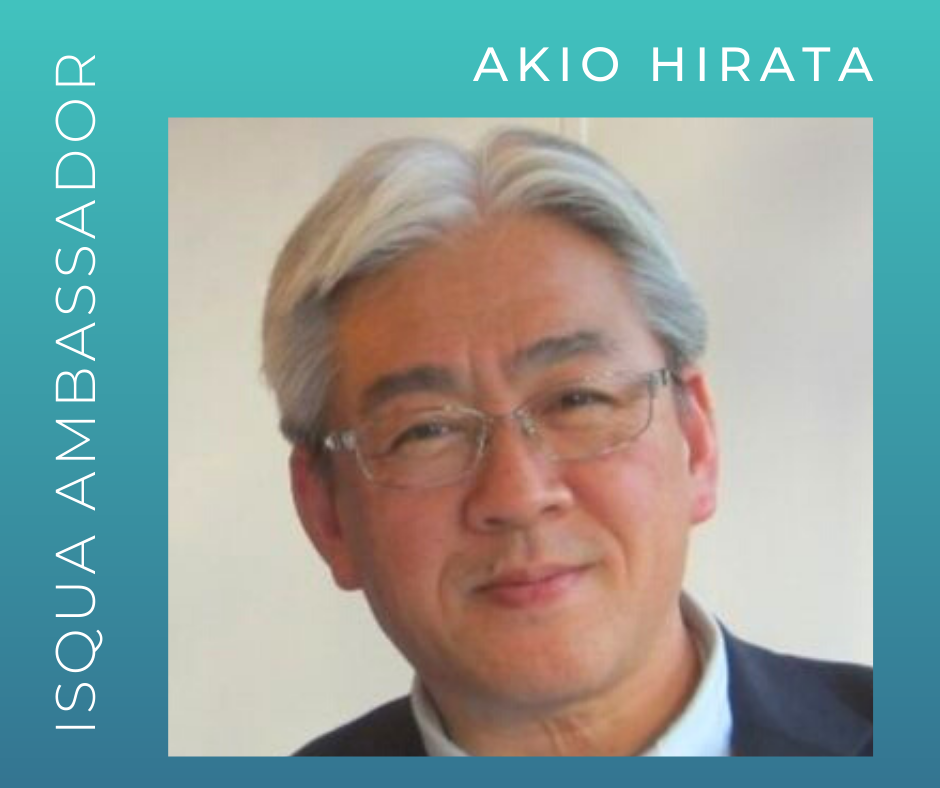 International Academy of Quality and Safety (IAQS)
ISQua established The International Academy of Quality & Safety (IAQS) to recognise distinguished individuals who have made a significant contribution in the fields of quality and safety in health and health care. The Academy recognises excellence of leadership within research, academia or service delivery within these fields. Election to membership of the Academy is one of the highest honours that an individual working in this area can receive.

The 35 founding Members of the IAQS were nominated and elected by ISQua Experts in June 2018. Twenty to thirty new Academicians are elected each year; currently there are 85 Members of IAQS. The Academy meets virtually and at the ISQua conference. Members publish papers and contribute to the knowledge programmes of ISQua and to the International Journal of Quality in Healthcare. Membership of the Academy is for life. Professor David Bates, President of ISQua from 2013-2015, is the current lead of the Academy.
Academy Members
| | |
| --- | --- |
| Rajesh Aggarwal, Professor of Surgery and Senior Vice President for Strategic Business Development and Innovation, Thomas Jefferson University, USA | Lucian Leape, Adjunct Professor of Health Policy, Harvard School of Public Health, US |
| Emmanuel Aiyenigba, Improvement Advisor, Institute for Healthcare Improvement, IHI | Sheila Leatherman, Professor, University of North Carolina , Gillings School of Global Public Health, USA |
| Ahmed Salim Al-Mandhari, WHO Regional Director, Regional Office Eastern Mediterranean, Oman | Weimin Li, President, West China Hospital, Sichuan University, China |
| René Amalberti, Senior Advisor, Haute Authorité de Santé (HAS), France | Andrew Likaka, Director, Quality Management and Digital Health, Ministry of Health, Malawi |
| Hugo Eduardo Arce, Physician, University of Buenos Aires, Argentina | Tingfang Liu, Professor, Institute for Hospital Management, Tsinghua University, China |
| G Ross Baker, Professor and Program Lead, University of Toronto Master of Science in Quality Improvement and Patient Safety, Canada | Ana Marie Malik, Professor, Escola de Administração de Empresas de São Paulo da Fundação Getulio Vargas, Brazil |
| Bruce Barraclough AO, Chair, Clinical Risk, Safety and Quality Sub-Committee, of MQ Health Board, Sydney. Associate Dean (Clinical Strategy) University of Western Sydney Medical School, Australia | Peter Margolis, Professor of Pediatrics, Co- Director James. M. Anderson Center for Health Systems Excellence,Cincinnati Children's Hospital, USA |
| Paul Batalden, Emeritus Professor, Dartmouth Institute for Health Policy and Clinical Practice, Geisel School of Medicine, USA | M. Rashad Massoud, Senior Vice President and Chief Program Officer, Americares, LLC's Quality and Performance Institute, Director, USAID Applying Science to Strengthen and Improve Systems (ASSIST) Project |
| David Bates, Medical Director of Clinical and Quality Analysis, Information Systems, Partners HealthCare System, Inc., Chief Division of General Internal Medicine, Brigham and Women's Hospital, USA | David Mayer, Executive Director, MedStar Institute for Quality and Safety, CEO, Patient Safety Movement, USA |
| Donald Berwick, President Emeritus and Senior Fellow, Institute for Healthcare Improvement, USA | Takeshi Morimoto, Professor of Medicine, Department of Clinical Epidemiology, Hyogo College of Medicine, Vice-Director, Center for Clinical Research and Education, Japan |
| Asaf Bitton, Executive Director, Ariadne Labs, USA | Fiona Moss, Dean, Royal Society of Medicine, UK |
| Jeffrey Braithwaite, Founding Director, Australian Institute of Health Innovation, Australia | David Nash, Dean, Jefferson College of Population Health, Thomas Jefferson University, USA |
| Mark William Brandon, Chief Quality Officer and Chief Policy and Regulatory Officer, Estia Health, Australia | Eugene Nelson, Professor, Dartmouth Institute for Health Policy and Clinical Practice, Geisel School of Medicine, USA |
| Gilbert Benjamin Buckle, Public Health Physician/Consultant Health Systems Strengthening, Ghana | Wendy Nicklin, President / Board Chair, ISQua; Board Member Hospice Care Ottawa; Board Member Salus Global; Healthcare Consultant; Former President & CEO Accreditation Canada, Canada. |
| Pascale Carayon, Procter & Gamble Bascom Professor in Total Quality, Director of the Center for Quality and Productivity Improvement, Department of Industrial and Systems Engineering, University of Wisconsin-Madison, USA | Kim Oates, Emeritus Professor, University of Sydney School of Medicine, Australia |
| Mohambry Nadasen Chetty, Chair, Independent Practitioners Association Foundation, South Africa | John Ovretveit, Professor of Health Care Improvement Implementation and Evaluation, The Karolinska Institute, Sweden |
| Enrico Coiera, Professor and Director of the Centre for Health Informatics, Australian Institute of Health Innovation, Macquarie University, Australia | Ajibike Oyewumi, Director, Quality and Clinical Programs, Lagoon Hospitals, Nigeria |
| Christine Dennis, Chief Executive Officer, Australian Council on Healthcare Standards (ACHS), Australia | Chris Power, Chief Executive Officer, Canadian Patient Safety Institute, Canada |
| Mary Dixon-Woods, Director, THIS Instititute, UK | Lloyd Provost, Improvement Advisor, Associates in Process Improvement (API), USA |
| Sir Liam Donaldson, Professor of Public Health, London School of Hygiene and Tropical Medicine, UK | Bhupendra K Rana, Founding CEO, Quality and Accreditation Institute (QAI), India |
| Michael Anthony Durkin, Senior Advisor on Patient Safety and Leadership, Institute of Global Health Innovation, Imperial College, London, UK | Laetitia Rispel, Professor of Public Health, University of the Witwatersrand, South Africa |
| Ezequiel Garcia Elorrio, Director of Quality in Health Care and Patient Safety, Institute for Clinical Effectiveness and Health Policy (IECS), Argentina | Ronen Rozenblum, Director, Unit for Innovative Healthcare Practice & Technology, Brigham and Women's Hospital & Harvard Medical School, USA |
| Glyn Elwyn, Dartmouth Institute for Health Policy & Clinical Practice, USA | Enrique Ruelas, President and CEO, Qualimed, Mexico |
| Carsten Engel, Deputy Chief Executive, IKAS (Danish Institute for Quality and Accreditation in Healthcare), Denmark | William Ben Runciman, Chief Investigator, NH&MRC Program, Centre for Research Excellence Grants, Australia |
| Tejal Gandhi, Chief Safety and Transformation Officer, Press Ganey Associates, USA | Odet Sarabia González, Chief of Quality at Petroleos Mexicanos Health Services and, Vice President of the Mexican Society of Quality in Health Care |
| Boel Andersson Gäre, Jönköping Academy for Improvement of Health and Welfare, Jönköping University, Sweden | Eric Schneider, Senior Vice President for Policy and Research, The Commonwealth Fund, USA |
| Carlos Hiran Goes De Souza, MD, MPH, MBA; VP, CEO AACI Portugal & Brazil | Charles Shaw, Independent consultant, UK |
| Michael William Gorton AM, Principal, Russell Kennedy Lawyers, Australia | Aziz Sheikh, Professor of Primary Care R&D, Usher Institute of Population Health Sciences and Informatics, University of Edinburgh, UK |
| David Greenfield, Director, Australian Institute of Health Service Management, Australia | Sodzi Sodzi-Tettey, Executive Director and Head, Institute for Healthcare Improvement, Africa Region, Ghana |
| Trish Greenhalgh, Professor of Primary Care Health Services, Nuffield Departement of Primary Care Health Sciences, University of Oxford, UK | Jacqui Stewart, Chief Executive Officer, The Council for Health Service Accreditation of Southern Africa NPC, South Africa |
| Elma Heidemann, Healthcare Consultant, Former CEO of Accreditation Canada, Canada | Maria Rosa Sunol Sala, Professor Doctor, President of the Board of Trustees Avedis Donabedian Institute (FAD) – Universitat Autonoma de Barcelona, Spain |
| John Helfrick, Senior Consultant for Partners Healthcare International, USA | Kathleen Sutcliffe, Bloomberg Distinguished Professor, USA |
| Clifford Frederick Hughes, Professor of Patient Safety and Clinical Quality, Macquarie University, Australia | Nana A Y Twum-Danso, Managing Director, Health, The Rockefeller Foundation, USA |
| Yuichi Imanaka, Professor and Head, Department of Healthcare Economics and Quality Management, Kyoto University, Japan | Shin Ushiro, Professor, Kyushu University Hospital, Japan Council for Quality Health Care, Japan |
| Brian William Johnston, Health and Social Care Services Consultant, Australia | Arati Verma, Senior Vice President, Medical Quality, Max Healthcare, India |
| Vahé A Kazandjian, Advisor and Lecturer in Quality and Safety of Care, The American University of Armenia, Yerevan, Armenia | Charles Vincent, NIHR Senior Investigator, Emeritus Professor Clinical Research, Imperial College London, United Kingdom |
| Niek Klazinga, Senior Policy Advisor and Lead of Work on Quality of Care, Organisation for Economic Co-operation and Development (OECD), Netherlands | Johanna Westbrook, Director, Centre for Health Systems and Safety Research, Australian Institute of Health Innovation, Australia |
| Janne Lehmann Knudsen, Danish Safety Authority, Denmark | Albert Wu, Professor and Director, Center for Health Services Outcomes and Research, Johns Hopkins Bloomberg School of Public Health, USA |
| Uma Kotagal, Professor of Pediatrics, Cincinnati Children's Hospital Medical Center, USA | Jennifer Zelmer, President, Azimuth Health Group, Canada |
| Basia Kutryba, Senior Advisor, National Centre for Quality Assessment in Healthcare, Ministry of Health, Poland | Eyal Zimlichman, Deputy Director-General, Chief Medical Officer and Chief Innovation Officer, Sheba Medical Center, Israel |
ISQua Experts
The ISQua Experts are individuals who are recognised for their expertise in patient safety, person-centred care and quality improvement. They contribute to ISQua programmes, covering a wide range of disciplines in health and social care. They are appointed for a period of 5 years.

As an ISQua Institutional Member organisation, you may request an ISQua Expert to speak at one of your events via the ISQua speaker bureau. To request a speaker for your event, please complete the speaker request form at least 8-12 weeks prior to the event. We will liaise with your chosen expert or select one who best fits the profile of your event or the topic to be addressed, We will reply to you as soon as possible regarding speaker availability. All expenses for the expert must be covered by the inviting organisation.

Email info@isqua.org for enquiries.